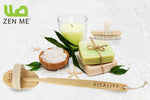 Is Dry Skin Brushing Effective for Detoxification?
"Do you cleanse, tone and moisture your face regularly?" This is exactly what has been asked to so many people around. And it is great to know that most of them do it so religiously. Well, that's good that people have become so particular about their skin care, but then here comes another question, which is how many of them actually does all these on the rest of their body?
While it is the best to leave this question to be answered by the readers, let's take a look at the benefits that dry skin brushing can offer.
Benefits of Dry Skin Brushing
Dry skin brushing helps in stimulating the lymphatic system, increasing circulation, relieving stress, better digestion and kidney function. Of all, dry brushing aids in detoxifying the body.
The skin is likely to eliminate almost over a pound of waste every day via its pores and elimination of the dead skin cells. Dry brushing works effectively in maximizing toxin elimination channels of your skin. This method helps in improving the circulation and stimulating the lymphatic drainage system, whereby firming your skin. Improved circulation means improved brain functioning, giving more energy to an individual.
 Besides, on inducing lymphatic flow, dry brushing prevents the development of unsightly cellulite. Also, it sloughs off your old dead skin cells as well as the toxic debris, whereby initiating the growth of healthy skin cells.
It has been found recently that individuals who have been dry skin brushing are now experiencing more healthy and radiant look. Your normal dry skin is expected to look a lot suppler than before. And the cellulite lumps on your thighs or hips will be less visible.
However, to get this thing done it is essential to buy a natural brush having medium strength bristles. Since synthetic bristles contain chemicals it is the best to avoid using them. You must be aware of the fact that detoxification regime clears the blood enabling it to circulate better. With dry skin brushing you can therefore get rid off of all the free radicals and boost your body's immune system.
Toxins that accumulate in the body not only affect you physically but also have a great impact on the brain function. You may have even suffered or suffering from troubled sleeping or chronic fatigue.
However, by gently brushing your skin in an upward motion and clockwise motion around your abdomen you can exfoliate and detoxify your body quite efficiently, which will of course help you in doing away with these symptoms. In a nutshell, dry skin brushing will help you achieve a cleaner and a healthier skin.